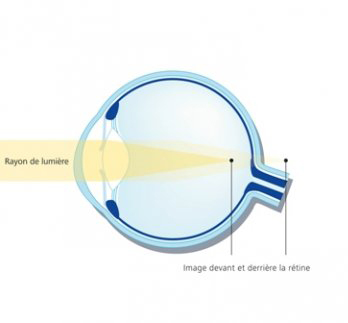 The cornea has an oblong shape due to a difference in the curves of the vertical and horizontal axes. It resembles a rugby ball compared to the normal shape of the cornea which is closer to a soccer ball.
The light entering the astigmatic cornea focuses on several planes of the retina, creating blurred vision both near and distant. Most myopic and hyperopic patients have a certain degree of associated astigmatism.
The LASIK technique with the Zeiss excimer laser corrects this refractive error by removing corneal tissue to create a more symmetrically shaped cornea.
A successful operation!
My eye operation was a success thanks to the new RELEX SMILE procedure. My eyes stung a bit for 4 hours after the operation and that's all! It's so wonderful to get up in the morning and not to have to put on my glasses! I see the world differently through new eyes! Thanks to the team at the Espace Nouvelle Vision Center!
I'm so happy!
It's been 2 months since I had eye surgery at the Espace Nouvelle Vision Center (to treat myopia with LASIK). I'm very happy, I can see perfectly, with no need for glasses or contacts! It's changed the way I live, I don't have to deal with taking care of contacts, and it's so great to get up in the morning and be able to see! I highly recommend this operation for anyone that is eligible. The surgeon and the team at the Espace Nouvelle Vision Center were fantastic!
I have perfect vision again!
With a friendly and professional team, and an operation that was not as impressive as I thought it would be, I now have perfect vision again!
No more tired eyes after a long day with contacts, or blindly searching for my glasses…I am totally satisfied with the operation and would like to thank my surgeon and his team!